G'Day everyone.
We have dates for our big trip this year! We will be stepping off from the Shrine of Remembrance on the 1st of October, conducting an administrative move down to Wilsons Promontory where we will start the actual trip at dawn on the 3rd, standing at the southernmost marker of the Australian mainland. Our trip will wind through the Victorian high country, through the Snowys, through Canberra, out to rural NSW, back to the coast, from Brisbane to Townsville, Cooktown, then to the Cape where we will stand at 11am on the 11th of the 11th and hold our remembrance day service.
We held a day trip away where Shane and myself drove 2 Land Rovers, and Scott and a few other veterans rode their motorbikes through the windy Yarra Valley to the beautiful Marysville. The Marysville RSL Sub-Branch hosted a sausage sizzle in the local community and raised $750.00, which is amazing and extremely humbling considering Marysville RSL burnt down in the Black Saturday fires. It was not long after we wrapped up this trip; the Marysville Lions Club also donated which again was fantastic.

With the help of the Akoonah Park Men's Shed in Berwick and Tyrepower Berwick, we were able to finish the BBQ Trailer we built using an Old Sallyman trailer donated by the Salvation Army ACT. We couldn't leave the trailer untested, so we packed it up and with the help of Shane Dickson and his partner Reyne, we held a BBQ at Noojee with more motorbike riders than our previous trip. All had a great day and a good feed.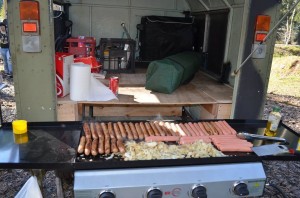 We have had significant interest and support from RSL's across Australia including a few from Queensland, which is fantastic, showing RSL's are open to the idea of working with the veterans of conflict post 1975. We are still making roads with some RSL's, and will endeavour to work with them in the future and beyond.
Young Veterans is happy to announce we have a few new veterans assisting us now, Matthew Loadsman, a former Navy Stoker (Ships Diver) and now a RAAF PTI. Matthew Keane, a former Navy Aircraft Technician, and Cameron James, an Army Graduate of the Australian Defence Force Academy who was injured during training and unable to continue his service in the ARA. Thanks Gentlemen.
Stay tuned; there will be more soon.
– Chris