[vc_row no_margin="true" inner_container="true" bg_color="#fff" border="bottom"][vc_column width="1/1″]
   Young Veterans  
[/vc_column][/vc_row][vc_row no_margin="true" bg_color="#fafafa" border="none" padding_top="0px" padding_bottom="0px"][vc_column width="1/1″][rev_slider_vc alias="header-slider"][/vc_column][/vc_row][vc_row no_margin="true" inner_container="true" bg_pattern="http://placehold.it/25×25″ border="none"][vc_column width="1/1″]
Who we are
Young Veterans is an auspice organization under the Dandenong RSL that seeks to encourage veterans under the age of 60 into RSL's across Australia and modernise Australia's longest running Ex-Service Organisation.
After brothers Scott and Chris came back from their deployments to the middle east, they found that there was a severe disconnect between the 'Vietnam Era' Servicemen and Women and our more 'Contemporary' veterans.
They teamed up with fellow veteran, Sven, in Brisbane and brainstormed ideas to close this void and misconception
Along with Vietnam Veteran and President of the Dandenong RSL, Mr John Wells OAM, the two brothers set out to empower veterans of all services, regardless of conflict to join them in conducting outdoor recreational activities that are enjoyed by so many Australians across the country.
What we do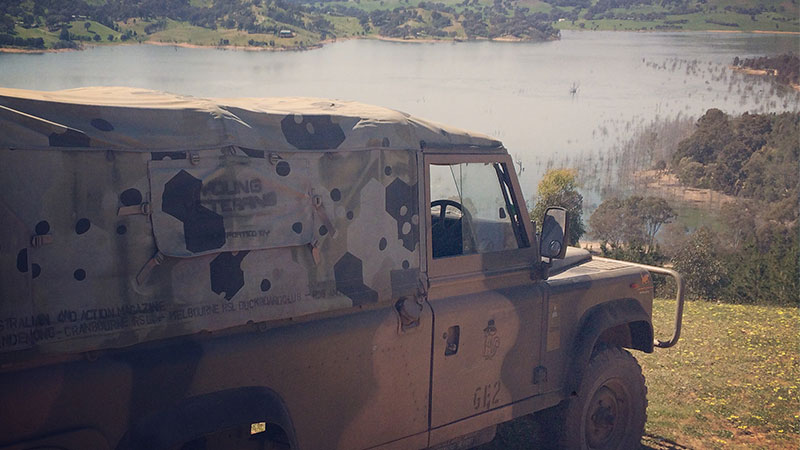 Working with the RSL, Young Veterans aims to provide the facilities and equipment for Australia's growing veteran community to be able undertake outdoor recreational activities such as Camping, Four Wheel Driving, Motorbike Rides, Fishing Trips and Bush Walking.
So far we have run several outdoor recreational activities including four wheel driving and camping weekends with veterans and their families. The trips have involved veterans from conflicts ranging from Vietnam to current serving members, all coming together to enjoy the Australian outdoors. In addition to these weekends away we also plan to run an annual Veterans trip which will consist of Veterans driving our three Land rover's across Australia raising awareness for support organisations for all veterans and their families.
Our mission
Young Veterans aims to interact with veterans from all conflicts, peacekeeping missions,  ex-serving and current ADF Members in conjunction with the RSL to provide outdoor activities for veterans to participate in.
Young Veterans aims to provide a means for veterans, ex-defence and current defence members to access welfare service provided by the RSL and associated welfare services through a non-conventional setting.
[/vc_column][/vc_row][vc_row no_margin="true" inner_container="true" bg_color="#fff" border="vertical"][vc_column width="1/1″]
Young Veterans Supporters
[/vc_column][/vc_row][vc_row no_margin="true" inner_container="true" bg_pattern="http://placehold.it/25×25″ border="none"][vc_column width="1/3″]
---
---
---
---
---
---
---
---
---
---
---
---
[/vc_column][vc_column width="1/3″]
RSL Victoria (State Branch)

And the following RSL Sub Branches:

Dandenong-Cranbourne RSL

Melbourne Duckboard RSL

Beaumaris RSL

Marysville RSL

Leongatha RSL
---
Everything 4WD
Hervey Bay RSL
Marysville Lions Club
Salvation Army
Max Trax
Akoonah Park Mens Shed
Virtus Digital
Thank You for your Service
[/vc_column][vc_column width="1/3″]
---
[/vc_column][/vc_row][vc_row][vc_column width="1/1″]
[/vc_column][/vc_row]