G'day Guys and Girls,
It took some time however with persistence we located our three Rovers, all of which we will introduce to you
Firstly there is Secret Squirrel, he is an FFV the first of our three Rovers and was purchased from a great old chap living up in Kinglake. Secret Squirrel is originally a Sydney sider and came from the 2nd Commando Regiment and it got its name for the character painted on it door, he was purchased through the Auctions in 2013 and its new owner flew to Sydney and drove it home to Kinglake where it sat in his shed for 12 months until we came along and purchased it for a bargain basement price. Since acquiring Secret Squirrel we have taken it away to Aberfeldy, Eildon and Avoca and put him through his paces.
The Second vehicle to join the ranks has been aptly named Dog Pu, there are two reasons behind this, one being the Number plate has the letters DG PU in it and the other being it's the slowest of the three rover. We purchased Dog Pu through the auctions; it wasn't our first preference however the 6×6 and RFSV's all sold for well out of our budget. Dog Pu is the FFR variant and has a PTO which may come in handy on the trip to cape York.
Our final vehicle purchase was made in New South Wales from a young P plater who purchased the old Landy to drive to uni….whatever floats your boat. Chris did all the negotiating for this vehicle and subsequently drove it home to Canberra and onto Albury where we picked it up. A decision was made and this vehicle was dubbed 'The Welshman'.
To top thing off we even had a ½ trailer donated by the Sallyman at RMC which had been sitting in a yard locked up for over 10 years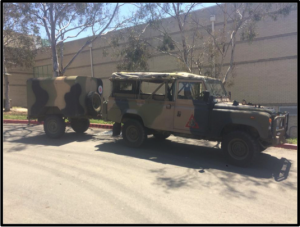 , a bit of wheeling and dealing there and the Salvos were more than happy to give it up for a good cause. The Welshman towed back to Melbourne no worries at all.
All three of the Rover have had a once over by the boys at Pride Automotive in Pakenham and are registered in Victoria, we have taken all three of the cars away on camping and 4×4 weekends with other veterans in their personal 4x4s
We have ran a weekend away every time we acquired a vehicle, so far we have been to Aberfeldy in the Victorian High Country, the scenic area of Lake Eildon and Mt Avoca in the Pyrenees Rangers west of Melbourne. All of the Rovers have performed quiet well and on some occasions we they have shown up a few of the newer, flashier four-wheel drives.
The only thing better than going hitting some track has been the people we have had come along with us. On all three trips we have had ex-defence and current serving members from varying corps and services come away with ages ranging from 6 months to 75 years.
The atmosphere around the camp at night is one I have not experienced for some time, to have 30 people from different parts of Australia sit around and spin a few good stories, have a drink and a bit of a laugh is something that does not happen all to often now days.
All going to plan we will be having a few more nights like that around a few more fires.
Stay tuned
– Scott