So last update, Scott and I had attended the ANZAC Appeal Launch with RSL Victoria. This was an amazing opportunity as we were representing the "contemporary" veterans side by side with our predecessors. It was great engaging with the community at the Shrine and promoting the fantastic ANZAC Appeal.
Scott and Myself, along with our parents and family attended the Dawn Service at Dandenong's cenotaph and marched prior to the 11 am service. Though we were the two youngest veterans, the old boys were very proud to march alongside us, and we to march alongside them. Later, we both got involved in the 2-Up and raised a substantial amount for the Dandenong women's auxiliary. All whom attended had a good day.

Between the launch and ANZAC Day, Scott and I engaged with the local schools in South-East Melbourne, including the primary schools that we attended. We spoke with the youth of today on what ANZAC Day means to us, to them, as well as what the bugle calls means and why we have a minutes silence. We also spoke to the young boys and girls as to what they thought a veteran was. Needless to say, they were quite taken aback when a 25 Year old stood in front of them with his medals on his suit. Even the teachers learnt something on our visits. It was definitely humbling getting to visit my own primary school. The students wrote letters thanking us and telling us what they learnt a few weeks later.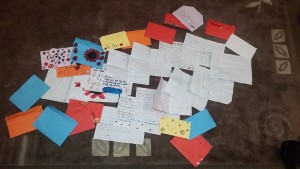 We also made a lot of ground at the Akoonah Park Mens Shed with our trailer. Ironman 4×4 in conjunction with Smithies 4×4 Accessories in Pakenham donated 2 Ironman fridges that we are mounting into the trailer. Pictures are available up on our Facebook page.
Stay tuned.
– Chris